Free Shipment to Peninsula & Islas

Don't you love it? Full refund
Product Features

Good for sensitive skins
Easy, Clean & Practical
Works on White & Colored Clothes
Vegan & Cruelty Free
Works on all Washing Machines (inc HE)
Melts on Hot & Cold water
Free of Parabens preservatives & Phospates
No Dyes or Dioxane
Shipping & Returns

Reduce your carbon footprint with the anual shipping.

Free shipping to Peninsula, Islas & Andorra. No minimum order.

If you don't get convinced you have 30 days to return it and we will give you a full refund.
Effective against stains
You don't have to sacrifice cleaning power for wanting to wash more environmentally friendly .
With Natulim you have the same power as any leading brand liquid or powder detergent. Confirmed by more than 1,000 customers in our reviews!
Biodegradable Box
Our box is made with 100% biodegradable cardboard and ink.
You can recycle it in the cardboard or compost it , and it falls apart in about 3 months, depending on the environment. This is much better than plastic , which can take up to 800 years to decompose .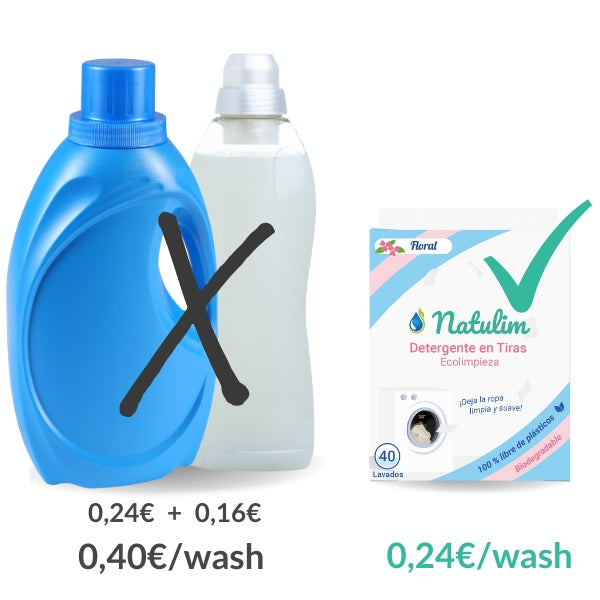 Save on fabric softener
Did you know that fabric softener is not only polluting but also wears out your clothes?
Natulim contains additional ingredients that leave clothes soft without damaging them . Save yourself the money (and the bottle) of fabric softener!
Pay only 22 cents per wash.
FAQ
Is it necessary to use fabric softener?

No need to use fabric softener. With Natulim the clothes are soft and smell fresh and clean clothes . Although if you are used to your usual softener, you can add a few drops without problem.
¿Is there any commitment to stay subscribed? ¿Is it hard to cancel?

There isn't any kind of commitment. Subscriptions allow us to have a better management of our stock. It makes us being able to offer you a better price. If you want to cancel it you just need to send us an email, Whatsapp message or do it by your own on your profile.

Do you offer samples for testing?

Even if we would love to give you samples to convice you, we are not that big to be able to aford it.

But what we offer is a full refund if you don't like it. No small print, try it and, if you don't love it, we will give your money back. You don't even have to return us the product. Give it a try!
What are the ingredients of Natulim?

Natulim ingredients come from plant origin. They are respectful with the skin and with the environment:

Polyvinyl alcohol : Polyvinyl alcohol protects the sheet from oxidation. It is odorless and non-toxic. It is completely biodegradable and dissolves perfectly in water.
Glycerol: Of vegetable origin and biodegradable. Glycerin increases detergency and softens.
Betaine: It is an amphoteric detergent with cleaning properties and is well tolerated by the skin.
Sodium Bicarbonate : It is a white crystalline solid compound soluble in water. Baking soda balances the pH of the water, which helps to leave clothes cleaner, fresher and brighter.
Sodium Citrate: Reduces water hardness. It is the best alternative to phosphates.
Sodium dodecyl sulfate : It is a surfactant of plant origin. Sodium Dodecyl Sulfate removes oils and greases. It is 99% biodegradable.
Alpha Olefin Sulfonate : Ecological and easily biodegradable anionic surfactant. In products in which the skin is in contact, it gives softness.
Alcohol Ethoxysulfate: Emulsifying anionic surfactant. It is also used in cosmetics because it is not very aggressive with the skin.
Kaolinite, Starch: They form the base of the strip
Perfume: The Lavender and Floral variant carries perfume. The Natural does not carry.
More than 100,000 Delighted Customers