Free Shipping Peninsula and Islands

Don't you love it? we reimburse you
Introducing the Dishwasher 🥳
Product characteristics

Limpieza Anti Grasa
Poder Limpiador, Abrillantador y Acción Sal
Protección del Cristal
Práctico, Sostenible y Efectivo
Efecto Secado Extra
Apto para Lavados a Baja Temperatura
Vegano y Cruelty Free
Envase de Cartón Biodegradable
Shipping & Returns

We send it directly to your mailbox, without you having to be at home to receive it. Free for the Peninsula, Islands and Andorra. No minimum order.

If you are not convinced, we will refund your money. Without you having to return the product. That's how convinced we are.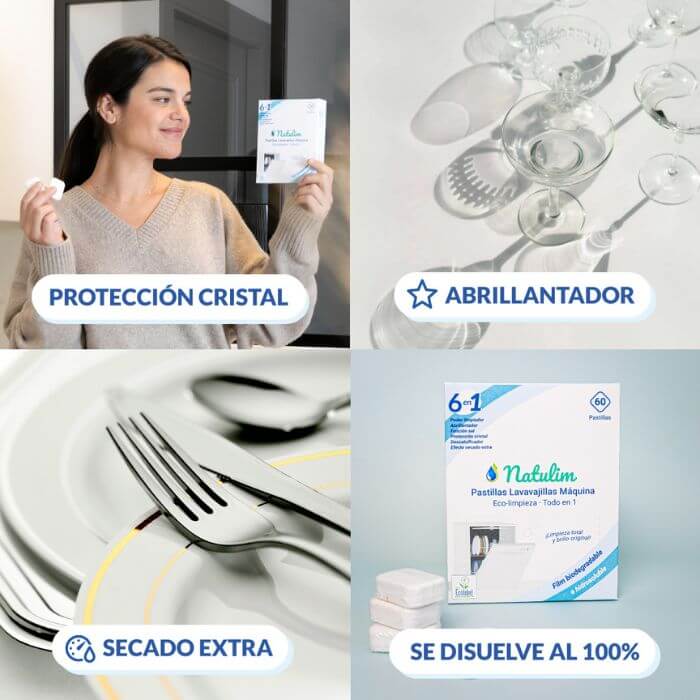 impeccable washing
With Natulim you will get an impeccable, anti-grease and shiny wash , while taking care of the environment. Our formula free of preservatives , additives, dyes and perfume guarantees maximum purity and safety. In addition, we protect your dishwasher and your crystals, provide shine for stainless steel, decalcify and offer an extra drying effect . Discover the Natulim experience and turn your dishwashing into an ecological and efficient moment!
Biodegradable Box
Our box is made with 100% biodegradable cardboard and ink.
You can recycle it in the cardboard or compost it , and it falls apart in about 3 months, depending on the environment. This is much better than plastic , which can take up to 800 years to decompose .
easy and practical
With a single tablet you will have your crockery sparkling:
1. Insert the entire pill into the box.
2. No need to add more products!
3. Use your usual washing program. If you don't fill the dishwasher, use the half load program. It is suitable for any size dishwasher.
4. Done! Impeccable crockery.
FREQUENT QUESTIONS
What are the ingredients of the Dishwasher?

De acuerdo con la normativa del REGLAMENTO (CE) No 648/2004:

La composición de ingredientes con CAS e INCI:

 

 
Do you offer samples to prove it?

Although we would love to be able to give you samples to finish convincing you, we are still too small to be able to afford it. But what we do offer is a 100% money back if you don't like it . No fine print, if you try it and it doesn't convince you, we'll refund your money. Without you having to send us the product . cheer up!
Is there permanence in the subscription? Is it difficult to cancel?

There is no type of permanence. The fact of having a subscription allows us to have a better stock forecast and to be able to offer you a better price. To cancel the subscription, simply send us an email. Or you can do it yourself through your profile.
How much is the shipping?

It's completely free! To the Peninsula, Islands, Ceuta, Melilla and Andorra. We want Natulim to be accessible to everyone. Using the Post Office to save CO2 in transport and so that you can receive it in the mailbox, without having to worry about being at home.
More than 100,000 Delighted Customers